Through periodic numerical management of track degradation, we deliver effective maintenance and repair
Supporting the hundreds of trains that pass over them daily, railway tracks undergo continual deterioration. It is essential, then, to conduct periodic numerical management of their degradation in order to carry out effective maintenance and repair. In recent years, due to labor-saving improvements in track maintenance, outsourcing has become an increasingly common practice. In order to respond to this trend, we have worked to realize the automation and mechanization of track inspection and have continued to gain customer trust while assisting in the optimization of track maintenance.
Types of track inspection
Rail flaw detection
Through the early-stage detection and treatment of a rail's internal flaws, it is possible to ensure a train's continued safe operation.
Running-type flaw detector TRD-100

The running-type rail flaw detector TRD-100 is the perfect device for detecting defects over long distances.

Screen-type ultrasonic rail flaw detector
PRD-100C

Built for rails, this detector's lightweight design allows for easy movement while eliminating the need to select locations.

Railhead transverse cracking sensor FG-50E

The railhead transverse cracking sensor is a dedicated measuring tool capable of determining the depth of previously hard to detect transverse cracks found below railhead shelling damage. This service is included in our second stage inspections.

Digital ultrasonic flaw detector SM-10R

A manually-operated, dedicated flaw detector used for precise flaw detection on welded areas and other specified locations.
Track displacement inspection
Using a noncontact optical sensor pulled by motorized cart, the position of the railhead surface and sides is measured along with the track's gauge, plane, height, alignment and flatness.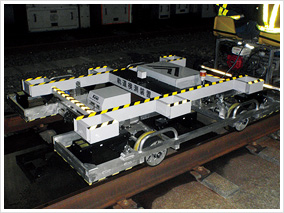 Track inspection device
Rail joint gap inspection
Using a noncontact optical sensor pulled by motorized cart, rail joint gaps are measured and recorded automatically, while simultaneously displaying the recorded images. Achieve efficient measurements with the addition of a track inspection device.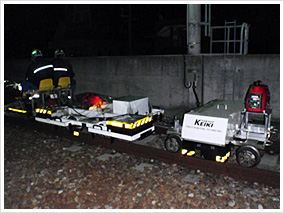 Track inspection device + rail joint gap measuring device
Equipment for turnout measurement
Employing an "optical cutting method" from a laser slit light source and 2-dimensional CCD camera, this system allows for the simultaneous measurement of 4 different fields; turnout rail and frog abrasion, back gauge, flangeway width and track displacement.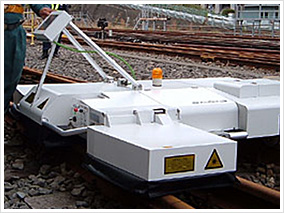 Equipment for turnout measurement