KG type elastic crossing structure

-rubber-encased steel pipe type-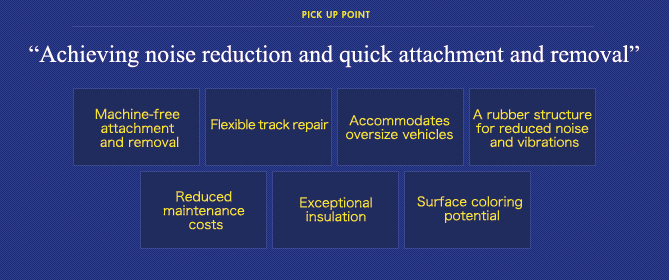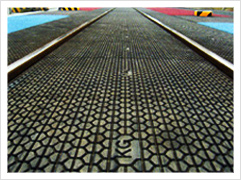 The KG type elastic crossing structure (rubber-encased steel pipe type) is a original railway crossing developed by Kiyota in 1989.
Structural overview
Structural diagram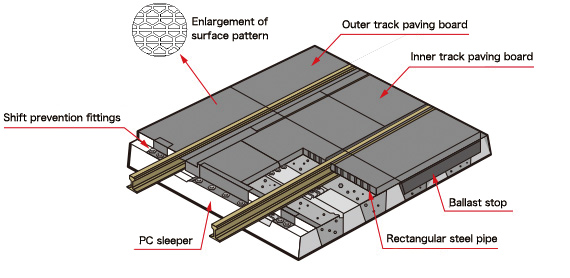 Cross-sectional image of paving board

Lined in a row, the rectangular steel pipes are encased in rubber and molded into a solid unit.
Main features
Easy attachment and removal without machinery assistance

By setting the paving board into the body of the rail, quick attachment and removal are made possible without the assistance of machinery. This is especially effective on tracks closed off for only short intervals.



Flexible track repair

This crossing allows for post-installation track repair using ballast tampers, etc. Maintenance costs are greatly reduced thanks to the paving board's potential for repeated use.



Accommodates oversize vehicles

Thanks to the dedicated PC sleepers supporting the paving boards, oversize vehicles (25 tons) can pass without worry.



A rubber structure for reduced noise and vibrations

The elasticity of the rubber absorbs shock to achieve a reduction of noise and vibrations. In cold regions, the rubber provides for easy snow removal and helps to control slippage.



Reduced maintenance costs



Exceptional insulation



Surface coloring potential (green, brown, black)



Specifications
Color (single)
specifications

Besides the standard black, Kiyota's paving boards are also available in green, brown and two-tone coloring.
By clearly highlighting the pavement on either side of the crossing, visual recognition is improved and crossing safety increased.
The color is not simply painted on the surface. It is mixed into the outer layer of rubber. As a result, there is no threat of pealing and no need for repainting, thereby achieving lower running costs.
Two-tone coloring
specifications

With colored paving boards, the street and sidewalk can be separated by color even on crossings with angled intersections. This delivers even greater pedestrian safety.
Guardrail
specifications

Allows for guardrail installment while maintaining the features of KG type crossings.
Snow-melting
specifications

In snowy regions, the round steal pipes housed in the paving board have been inserted with braid heaters* in order to melt snow on the pavement surface. Inserting the heaters is simple and can be done without closing down the crossing. *Braid heater: a heater made of braided fibers that produce electrically generated heat.
A crossing combining snow-melting paving blocks with snow-melting KG (green)